Don Napier
Sales Manager Of A.J. Michaels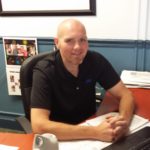 Don Napier is Sales Manager at A.J. Michaels and has been with the company for eight years — his entire career in the HVAC industry. Don holds a Bachelor's degree from Towson University and is BPI certified.
As Sales Manager, Don is responsible for managing residential sales for A.J. Michaels, where he leads and assists residential HVAC, plumbing and home performance estimators to provide the highest quality service to A.J.'s customers. Don reviews project proposals with estimators and meets with suppliers, but what Don really enjoys the most is the day–to–day interaction with both new and old customers.
"This isn't just a job and a quick visit to a customer's home. It's been very rewarding being able to walk into a house as a stranger and walk out as a friend. The conversations with our huge variety of customers has been fantastic."
Don remembers one boiler customer in particular. "I went to evaluate a boiler for replacement on a very cold day. The customer was upset about the boiler and had recently lost her husband. My grandfather had just passed away and we were able to sit there and talk. We got the boiler installed the very next day and more importantly, we were able to help each other a little that day." It is this caring and willingness to go the extra mile to give a thorough solution for a specific project that separates A.J. Michaels from everyone else. This level of experience and dedication to service cannot be matched anywhere in this region.
The biggest change Don has seen in the HVAC industry is the constant evolution of the technology. "Year to year, the technology rapidly changes and continues to enforce the need for customers to hire an experienced contractor with proven ability to service and install a wide variety of systems. We are constantly being trained on new and innovative products and best practices for adapting to these new technologies."
Don lives in Harford County with his wife and two children where he enjoys just being at home and soaking in all the fun and sometimes challenging times that being a parent brings. He also can't get enough of the Orioles and Ravens.