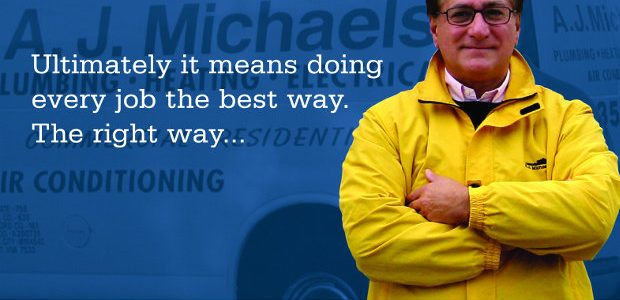 Why We're Different
A.J. Michaels Company, Baltimore's Leading Heating, Cooling And Plumbing Services Company Since 1978.
We're proud to call Baltimore home. Locally owned and operated since 1978, A.J. Michaels' long-standing reputation of providing honest and accurate solutions installed with the highest level of expertise and latest technology available is second to none. Whether you're replacing a heat pump, furnace or boiler, looking for a new high efficiency air conditioning system, or need a plumbing emergency fixed quick, A.J. Michaels removes the doubt surrounding these important decisions.
There's no doubt about our reputation. Since 1978, we've installed over 35,000 systems, many based on referrals from satisfied customers, while maintaining an A+ rating with BBB. Unlike many of our competitors, WE DON'T:
Walk in with pre-packaged solutions or an agenda to sell you a particular product
Inflate our price to give you discounts or made-up rebates
Use lesser quality equipment that saves a few dollars now but will cost you more in the long run
Cut corners in installation
Employ salespeople working 100% on commission who'll sell you anything
Sub-out residential electrician services
Function as a franchise with inconsistent quality of service
Send revenue out-of-state. We're locally owned and support our local economy.
Check out this competitor comparison chart.  Let us prove why we're different from our competitors. In Baltimore call 410.698.6129 , in Annapolis call 410.849.6630 , or fill out the form on the right for a free estimate on a new system or to request service for your heating, air conditioning and plumbing needs.