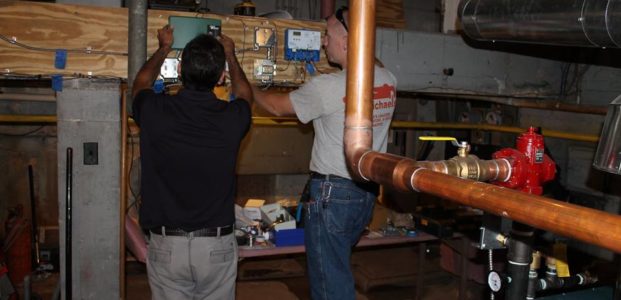 Commercial Heating
A.J. Michaels can install, repair or replace your business' heating system – and cut your energy expenses while we do it. Oil, gas, electric, steam or boiler; ducts or chimneys, anywhere in the central Maryland area, we can handle it.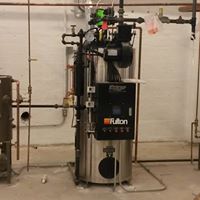 Remember, too: once we install your system, we'll stand behind it. With outstanding maintenance and repair service. With dedicated, highly trained technicians. And with our promise that we will never charge you extra for service on nights, weekends or holidays.
That's the A.J. Michaels way, and has been since 1978. There's no doubt about it.
Our commercial heating services include:
Repair, installation and maintenance (including churches and other buildings, rooftop systems, central boilers, warm air, steam, oil or gas)
Service on all major brands of equipment
System conversions (gas, oil, electricity, steam-to-water)
Energy-saving programmable thermostats
Additional items for your health and comfort, such as humidifiers, electronic air cleaners and electrostatic air filters
Planned service agreements
Our own electricians for better quality and service – no subcontractors
Prompt, courteous same-day service
All work guaranteed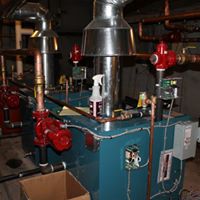 Rooftop systems or central boilers; warm air, steam, oil or gas, nobody is better equipped for the job than A.J. Michaels. Since 1978, we've worked on churches, nursing homes, shopping centers, restaurants, apartment buildings – even a cruise ship – more than 35,000 systems so far!
In many cases, we may be able to save you 50% or more, as we did at the Ridgemede Apartments. We converted their 80-year-old building from steam heat to hot water heat, and installed a modular system. The most amazing thing? We did that job more than 20 years ago. Imagine how much we could save you with today's high-efficiency equipment!
We routinely handle complex jobs like boiler conversions, retrofitting and installations. We're also up on the very latest HVAC technology – including the new VRV or VRF variable refrigerant systems, which not only save money, but allow you to adjust temperatures in each individual room or office if you want.
The A.J. Michaels advantage
Whatever you need, whatever type of building you have in mind, remember the advantages of working with A.J Michaels:
We're local, independent and family-owned, not an out-of-town franchise.
We've been serving the Maryland area since 1978.
We do not use subcontractors.
We're not locked into a particular brand of equipment or type of fuel. We'll design whatever system works best for you.
We'll never charge extra if your system needs service. Nights, weekends and holidays, it's all the same to us – and our work is always guaranteed.
In Baltimore call 410.435.5400, in Annapolis call 410.573.5858 or fill out the form on the right for a free on-site estimate for a new system or to request service for your business.