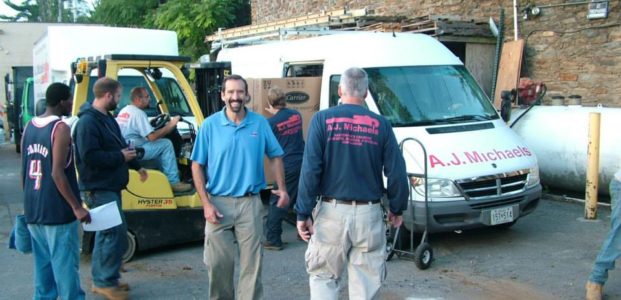 Careers at A.J. Michaels
Locally and family-owned for more than 40 years, we're proud of our reputation earned through the hard work and dedication of our highly skilled team members, many of whom have been with the company for decades!
A.J. Michaels provides interesting work, growth opportunities, job security, competitive wages, bonus opportunities, paid overtime, paid vacation and holidays, health/life/short & long-term insurance, 401K with company match, uniform, company vehicle/allowance, anniversary/longevity recognition, and other perks.
We value team members who embody professionalism, dependability, dedication to outstanding customer service, strong work ethic and a good attitude.
To be considered for any of the following open positions, please contact dave@ajmichaels.com or call 410-435-5400 to arrange an appointment.
HVAC Technicians
$1,000 sign-on bonus!  Come work with the best in the business.  A.J. Michaels is seeking skilled Master and Journeyman HVAC Technicians for immediate hire.  This is a full time position with year-round residential and light commercial work.
Journeyman Plumber / Gas Fitter
A.J. Michaels is seeking a skilled Plumbing Journeyman with boiler installation experience for immediate hire.  This is a full time position with year-round residential and light commercial work.  This position requires the ability to install, service and repair residential and light commercial boiler, plumbing and gas piping applications.  Demonstrated knowledge of cast iron, copper, and gas piping installations and steam / hot water boilers is required.  A Journeyman license is required.
HVAC Sales Estimator
A.J. Michaels is seeking an experienced residential HVAC Sales Estimator for immediate hire. This is a full-time position with year-round work including cross-training for boiler sales.
We provide a competitive advantage over other HVAC companies in that we can offer our customers up to $7,500 in rebates through the EmPower Maryland Performance Based Incentive program.  Using the whole-home approach, our Sales Estimators typically close 50% of leads at a higher average sale compared to industry and market standards.
All leads are provided, flexible schedule, office support team and six figure earning potential.  HVAC sales experience required, knowledge of plumbing/gas work a plus.
HVAC Customer Service Representative
A.J. Michaels is seeking an experienced HVAC/Plumbing Customer Service Representative for immediate hire. This is a full-time position with year-round work. Secure your future by becoming a key member of a family owned company celebrating over 40 years of serving Maryland customers.
Primary responsibilities include:
Answering and responding to customer phone, email and web inquiries
Scheduling and dispatching service technicians
Managing and maintaining customer Planned Service Agreements
HVAC/Plumbing customer service experience required along with a strong focus on customer service, professionalism and commitment to integrity.
Home Energy Auditor
A.J. Michaels is seeking a residential home energy auditor.
If you are already a Building Performance Institute (BPI) certified auditor with Building Analyst and Envelope Certifications, or have previous experience in the construction or home performance trades and are looking for an opportunity in a growing industry, we'd like to talk to you.  A.J. Michaels serves the BGE and Delmarva Home Performance with Energy Star Program territories.
This role will use diagnostic equipment to perform comprehensive home energy audits and determine how improvements throughout the home can work together to maximize energy efficiency and savings for our customers.  Responsibilities include:
Conducting a blower door test that uses the combination of pressure and airflow measurements to determine a home's air leakage.
Thermographic camera testing using infrared images to assess the effectiveness of the home's insulation
Combustion and safety testing to detect carbon monoxide and natural gas leaks
Verification of adequate ventilation, which is critical to reducing indoor air pollutants, moisture and odors in the home
Reporting and analysis through Beacon software
Assisting with closing home performance sales
All leads are provided and there is no cold calling.