Michael Giangrandi
CEO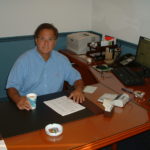 Michael Giangrandi is CEO and owner of A.J. Michaels, which he incorporated back in 1978. He holds a Master's License in Heating and Air Conditioning, a Maryland Home Improvement license, and has been certified by the Building Performance Institute.
Michael takes a simple, straightforward approach to doing business.
"We help homeowners and businesspeople," he states, "who usually have serious problems. No heat when it's cold outside, no cooling when it's hot, toilets that can't flush because the sewer line is clogged or broken, or very high energy bills. It's gratifying to know that we've helped them and provided good service at a fair price."
Early in his career, Michael saw the advantages of energy-efficient technology, both for his customers and for the environment. As Chairman of the Maryland Alliance of Energy Contractors, he represents the state's plumbing and mechanical contractors. Together, they work with utilities and state agencies, promoting energy-saving initiatives, affordable financing, and rebates for energy conservation through the EMPOWER Maryland Program.
Michael has made it his top priority to hire — and keep — highly skilled people. "The majority of our employees," he notes, "have been with the company for 10 years or more. Our three key managers have all been with the company over 20 years. Our installation manager has a degree in engineering. Few, if any companies can offer this level of expertise."
An enthusiastic football fan, Michael hasn't missed a home game since he was in high school, going back to the days of the Colts, the Stallions and now, the Ravens. He enjoys boating, fishing and cooking. "There's nothing better," he says, "then sitting down with your family for a Sunday dinner of homemade pasta with Grand mom's special sauce."