Ryan Small
Vice President Of Operations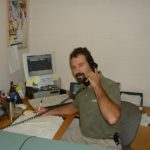 Ryan Small is Vice President of Field Operations at A.J. Michaels. He has been with the company for 26 years and holds an engineering degree from Loyola University and an HVAC/Plumber Journeyman's license.
As Vice President of Field Operations, Ryan supervises the day–to–day operations of all job installations and field personnel. "I spend a lot of time in my truck driving from jobsite to jobsite, but it beats a desk job."
After more than a quarter century in the HVAC industry, Ryan has seen it all and cites the evolution of technology as the biggest change. "Today's systems are so much more efficient and require more knowledge in terms of set-up and tuning. Digital programming including WIFI enabled thermostats are becoming more and more common."
Recent A.J. Michaels accomplishments include the newly renovated Elephant restaurant, formerly the Brass Elephant, but Ryan is most proud of the emergency jobs he's been involved with, most notably numerous churches throughout the years with no heat.
"I remember a boiler replacement on Christmas Eve for a church that had no heat in the dead of winter. They were so thankful and appreciative. For us, it's really a dedication to performing the job to the best of our ability regardless of profit margin. That's what separates us."
A diehard Baltimore sports fan and avid trail runner, Ryan enjoys morning jogs in the woods with his dog and spending time at home with his family.